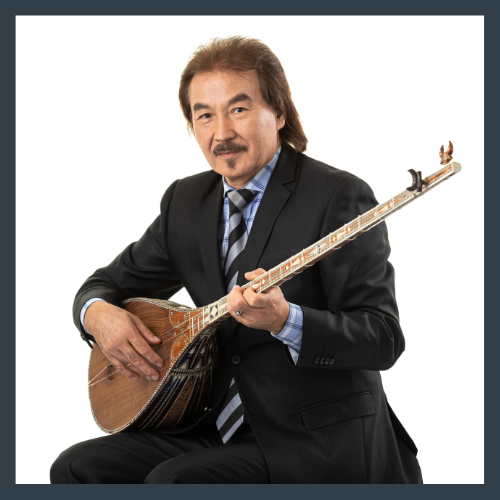 Shohrat Tursun
Of Uyghur background (a Turkic-speaking minority ethnic group from the Central Asian region), Shohrat Tursun arrived in Australia in 1999 in pursuit of a better life and to escape the oppression he had experienced. Although he left his homeland, he didn't leave behind his passion for his Uyghur culture.
"When I was six years old, my father introduced me to traditional Uyghur music," says Shohrat. "I have been performing on stage ever since."
A seventh-generation musician, Shohrat learned everything he knows from his father, and has travelled the world as a nomadic performing bard. He plays the dutar – a traditional long-necked, two-stringed lute – and lends his soaring vocals to traditional Uyghur ballads. He is also well known for performing the UNESCO-protected Uyghur song cycle Muqam Rak, a scale-based song with verses telling different stories of ancient times. The Uyghur Muqams act as the history books of East Turkistan, recounting tales of ancient mythologies, historical events and figures – tales very close to Shohrat's heart.
"I am very proud of my culture, and its beauty," he says.
Shohrat studied music at university in Peking, China, before moving to Australia. He was discovered by a fellow musician as he was driving trucks in Sydney's west, and was invited to share his music at the Sydney Sacred Music Festival. This was where his musical journey in Australia began.
Music and dance occupy a significant place in life of the Uyghurs. There are no holidays, parties and wedding festivities without music and dancing. It is the essence of his culture that he has brought to Australia. But as COVID-19 has limited social gatherings, there have been few celebrations to be had.
"I know I must stay safe," he says. "But I miss my community."
"I like to write songs of celebration, to bring people together," says Shohrat. "It is hard when we cannot see each other."
Recently, Shorat has had a taste of this again, albeit virtually, joining Syrian musician George Karam, Ghanaian percussionist Yaw Derkyi, and producer Richard Petkovic (Cultural Arts Collective), to form the band Collusion for the SSI New Beginnings Freedom Sessions, bringing people together through music even when we are apart.
This collaboration of musicians from different cultures and musical backgrounds saw Shorat perform a range of genres, something he is well-practiced in, having also dabbled in rock, pop and classical.
"Sometimes I can even do opera!" he says. "Mixing cultures makes for the best music."
While he's not performing, he's writing new music and learning different styles, but nothing compares to his love of seeing people enjoy his music. Over the course of three years, Shohrat gained a teaching certification so he could pass on his knowledge of ancient melodies.
Shohrat's case manager introduced him to Ignite when he expressed a desire to work on his solo career as a musician. From building websites to creating business cards and connecting him with local organisations to book performing work, Ignite has been relentless in their support to help Shohrat share his gift for music.
"Ignite's ongoing support, business advice and the personal approach makes me feel like my business is going forward," he says.
Ignite has opened a realm of possibility and opportunity for Shohrat to share his music and culture with Australia. They connected him with Fairfield Council, where he now teaches music to primary aged students. Ignite also connected him with Inner West Council where he worked on the Perfect Match project, a unique initiative tackling unwanted graffiti through fostering legitimate creative expression and art in public spaces.
Moving forward, he just hopes to be able to go out and perform his music again to live crowds.
"I cannot wait," he says. "I love to play music. Next, I want to try acting!"
Hear Shohart perform Muqam Rak: https://www.youtube.com/watch?v=HySfjWuLWvs