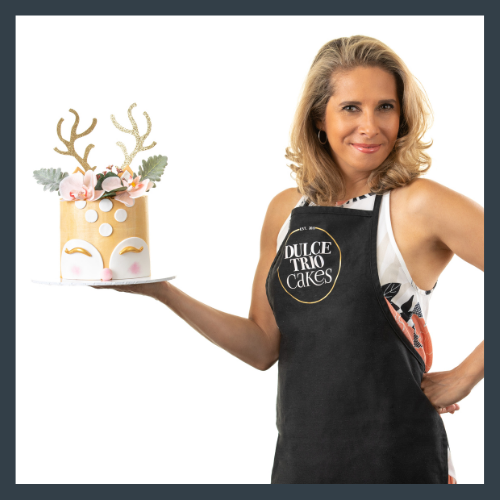 Merlyn Hernandez
It was the hope of a brighter future that lured Merlyn Hernandez to Australia's sandy shores, and the promise of new opportunities that hadn't been open to her back in Venezuela. But when she struggled to find work in her field as a graphic designer and ended up in hospitality, she didn't let it deter her. 'It's never too late to learn another career!' she says. 'Once I completed my diploma in hospitality, I realised my potential in creating beautiful cakes'.
Although her talent was obvious and the market ripe, it took Merlyn several years – and the support of Ignite – before she had the confidence to launch her own business. "Dolce Trio was born from my creative eye as a graphic designer and my passion for food,' she says. 'I've taught myself 95% of what I know as a cake artist, and I have the creativity, discipline and passion for what I do.'
Merlyn was first connected to Ignite when a friend told her about Ignite's Women in Business Scholarships, designed to give existing businesses a helping hand. She was determined to prove she was committed and ready to take Dule Trip to the next level.
'Ignite gave me the right tools to build up not only the confidence on myself, but in the product I have to offer. Ignite has helped me so many ways to move forwards and take new opportunities to grow and succeed as a business'.
Ignite has been more to Merlyn than just a mentorship program. The innovative ideas and constant support of her facilitators meant Merlyn was able to overcome the barriers Dulce Trio was struggling with at the time. The constant passion and enthusiasm the Ignite team had for Merlyn and her business helped her believe her product was good enough to compete with the best in the market. 'Ignite has given me the tools to become a more efficient and taught me how every aspect of a business – whether finance, marketing or social media – must work hand in hand.
'Having the privilege to be mentored by experts in the market has opened my eyes to a whole new world of opportunities'.
Merlyn's vision for Dulce Trio's future is simple – to see it grow as a successful business, and to share her skills and knowledge with other refugees. And there is no doubt in her mind about what she wants to achieve. 'I know so and I believe so,' she says. 'I'm working really hard day by day, putting all my heart into this great project.