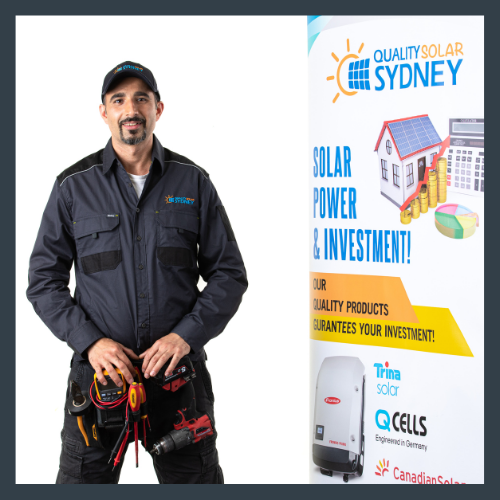 Ali Shalkouhi – Quality Solar Sydney
You wouldn't think Quality Solar Sydney, the pioneering figurehead of solar installations in Sydney, was started by a mere one man. When Ali arrived in Australia from Iran in 2007, he had the passion and determination to create a life for himself – and explore a new way of creating energy.
In Iran, Ali studied electrical engineering. Since being in Australia, he completed qualifications in electro-technology from TAFE. This qualification led him to explore opportunities within the solar power industry, obtaining solar power accreditation from Clean Energy Council
When Ali saw there was a gap in the market – no business that covered both electrical and solar engineering needs – he toyed with the idea of starting his own business. After sharing his ideas with his case manager from Settlement Services International, she instantly referred him to the Ignite program. 'Ignite help me progress my business in all aspects of business, not just marketing,' says Ali. 'I was connected with the Ignite resource team, who helped me build a strategy on how to take my business to the next level'.
Quality Solar Sydney was born from Ali's passion electrical engineering, and from learning new and greener ways of producing energy. His studies at TAFE ignited a new spark in him to charter into unknown territory, and when he finished his certification, he established a business in solar energy with a dream to be the best in the industry.
And this dream is proving to soon become a reality. Positive testimonials flood the website, and their business module is centred on the 100% satisfaction of their customers, and their vision that people matter.
When launching Quality Solar, he needed help with promoting the business and gaining clients. Ignite was ready to help, assisting Ali put a marketing plan together which ultimately resulted in new business.
Ali believes that working with Ignite has helped shape his business to the success it is today. 'Ignite works at individual pace, which I found rewarding and not stressful – which helps when running a business!' says Ali. 'I also found the consistency of the support great and knowing that I can count on things for my business being done when I need it'.
As for where he sees his business growing in the future – his hope is to one day give back to his community, and create opportunities for people like him. 'My dream is to grow my business Australia wide and to provide jobs for many people.'