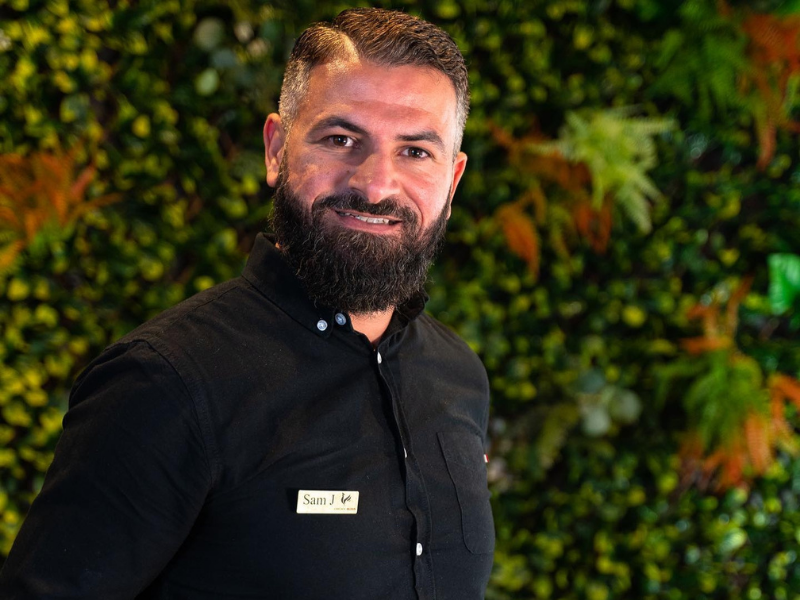 Sam Jazea – Prinvi
Iraqi-born Sam Jazea praises his adopted country for its care and support after he arrived in Australia as a refugee in 2009.
"I feel like Iraq is my father and Australia is my mother. Fathers are always there but don't always give you the care and support like the mother who will give you food first and then feed herself later."
But when it came to creating social connections, this was something Sam had to face on his own.
Sam didn't know anyone in his new home, and was looking for ways to meet people. During this time, an idea for a social meet up app began forming in Sam's mind.
"I was writing notes about it. At that time, I didn't think I would end up doing it. I was jotting things down for someone else to do. I thought I might tell my friends, 'see, I thought of this [idea] and this company did it'," says Sam, who owns and runs two mobile phone shops in western Sydney.
But three years ago, Sam's drive to do anything he sets his mind to propelled him to start developing the idea into reality.
"I started engaging more in online research and saw other people doing apps, and I thought if they can do it, then I can do it too. This [thinking] is always my way."
Getting serious about the idea drove Sam to find help.
"I sent a message to Liverpool Council. I didn't really expect them to get back to me but they introduced me to a few places. The best thing was the introduction to Ignite. I will never forget this."
"Ignite has given me a lot of direction to the right way to move ahead with my business. There are no words to describe how great [my facilitator] Jacqui is. The management and help has been too big to describe. Ignite is like a team when you don't have your own team."
So, in June 2020, Prinvi was launched. Named for the concept of 'pre-invitations', Prinvi is a transparent way to meet people online – from friends, networking, dating and events – with users posting 'pre-invitations' noting time and date, place, and even who will pay (yes, splitting the bill is an option!). Invitations are tailored to the user. In an era where meeting people online is the norm, Prinvi removes the uncertainty around a potential connection – there is no room for 'flakiness'.
"With Prinvi, everything is in front of you – nothing is hidden," says Sam.
Describing himself as a 'very, very social person', Sam believes that meeting new people allows us to think outside the box.
"It's good to meet new people to know as much as we can. It's good for life experience."
And so, he's on a mission to help connect people with similar interests, start meaningful conversations and discover new experiences.
"I hope that millions of people find my app so that it can help them to make connections and not feel the same as me when I didn't know anyone or how to meet them."